At Jowett & Lewis Family Dentistry in Topeka, KS, our veneer services offer a transformative solution for various cosmetic dental concerns. Our experienced team is committed to enhancing the appearance of your smile with high-quality, custom-made veneers.
Symptoms Indicating the Need for Veneers
Veneers may be the right choice if you experience:
Teeth that are discolored and cannot be whitened by bleaching
Chipped or worn teeth
Irregularly shaped or misaligned teeth
Gaps between teeth that you wish to close
Why Veneers are Beneficial
Veneers are essential for:
Improving the overall aesthetics of your smile
Providing a long-lasting cosmetic solution
Minimizing the need for more invasive dental procedures
Boosting confidence with a renewed smile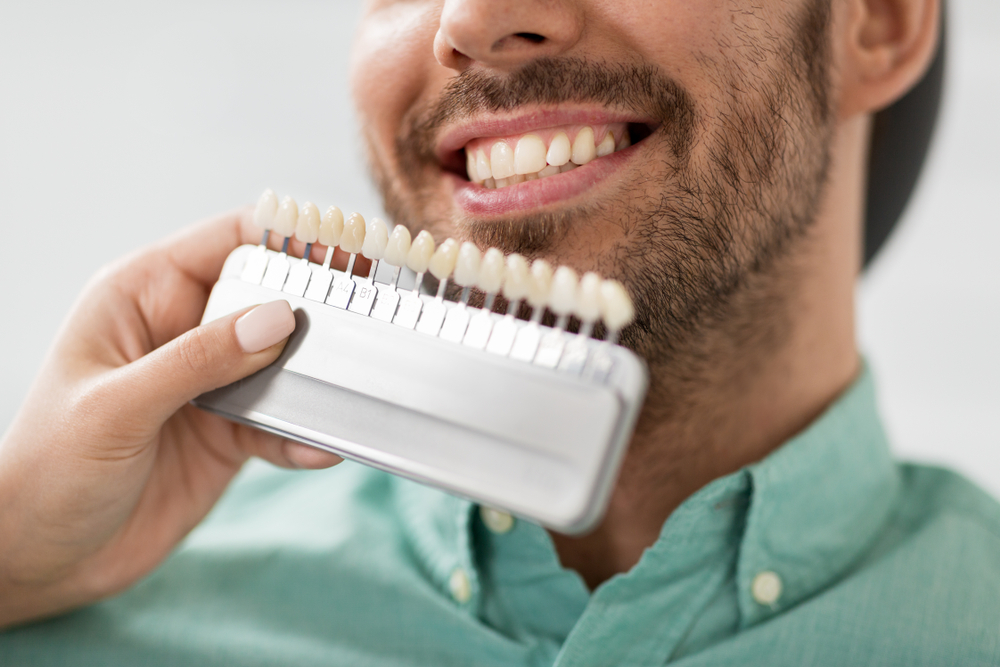 Treatment Process for Veneers
Our veneers treatment includes:
Consultation and Evaluation: Discussing your goals and assess your suitability for veneers.
Custom Design: Crafting veneers that fit the shape, size, and color of your natural teeth.
Tooth Preparation: Slightly reshaping the tooth surface to accommodate the veneer.
Veneer Placement: Carefully bonding the veneer to your tooth for a secure and perfect fit.
Final Adjustments and Review: Ensuring comfort, fit, and satisfaction with the final result.
Follow-Up Care: Providing advice on caring for your veneers to maintain their appearance and longevity.
Prevention
Maintain your veneers by:
Practicing good oral hygiene, including brushing and flossing regularly
Avoiding biting hard objects or using your teeth to open things
Wearing a mouthguard if you grind your teeth at night
Outlook
With proper care, veneers can last for many years, providing a durable and aesthetically pleasing smile enhancement.
Frequently Asked Questions:
Am I a candidate for veneers?
You may be a candidate for veneers if you have generally healthy teeth and are looking for a way to improve their appearance by correcting imperfections such as:
Stained teeth that don't respond to whitening treatments
Oddly shaped teeth
Unevenly sized teeth
Gaps between the teeth
Crooked teeth
To determine if you are an ideal candidate for veneers, schedule a consultation with one of our cosmetic dentists at Jowett & Lewis Family Dentistry today.
What can I expect when having veneers placed at Jowett & Lewis Family Dentistry?
When having dental veneers placed at Jowett & Lewis Family Dentistry, you can expect a series of steps over at least two visits. First, your cosmetic dentist will give you a thorough examination to determine if you are a candidate for veneers and make sure there aren't any complicating factors. At this point, they may perform some additional dental work to prepare your teeth for veneers, such as filling in cavities.
Once your dentist has determined that you are an ideal candidate for veneers, they will need to prepare your teeth. This is accomplished by removing a thin layer of enamel so that they veneer can be applied without looking bulky or affecting your bite. This process will be repeated on every tooth that is being restored with veneers. After the teeth have been prepared, then your dentist will take a dental impression of your mouth that a dental lab will use to fabricate your veneers.
You'll then need to return for a second appointment once your veneers have been completed. During this second appointment, you'll have them fitted and bonded to your teeth. While veneers can generally be placed over the course of two appointments, it can take more appointments if multiple dental procedures are required to prepare the teeth for veneers.
What can I expect after having dental veneers placed?
After having veneers placed, you can immediately return to your usual routine and oral hygiene practices. However, you may experience some minor tooth sensitivity in between the first and second appointments as a result of the enamel being removed. This will usually fade once the permanent veneers have been applied and the teeth have adapted.
What are Dental Veneers Made Of?
Veneers are typically made of porcelain or composite resin, offering a natural look that mimics the appearance of your natural teeth.
How Long Do Veneers Last?
With proper care, veneers can last for many years, often up to a decade or more, depending on the material and your oral hygiene practices.
Are Veneers Right for Everyone?
Veneers are a great option for many, but not suitable for everyone. Factors like the condition of your natural teeth and overall oral health will determine if veneers are the best option for you.
Begin Your Smile Transformation with Our Custom Veneers
Enhance your smile with custom veneers from Jowett & Lewis Family Dentistry in Topeka, KS. Call us at 785-272-3864 to schedule a consultation and discover how veneers can transform your smile.