Jowett & Lewis Family Dentistry in Topeka, KS, specializes in the innovative dental procedure of implant-supported overdentures. This advanced treatment combines the stability of dental implants with the convenience of removable dentures, offering a secure and comfortable solution for those with missing teeth.
Indicators for Implant Placement with Overdentures
Consider this treatment if you have:
Multiple missing teeth or complete tooth loss
Difficulty in wearing traditional dentures due to discomfort or poor fit
The desire for a more stable and secure dental prosthetic
Existing dentures that require frequent adjustments or cause sore spots
Why Implant Placement with Overdentures is Beneficial
Implant-supported overdentures provide several advantages:
Improved stability and comfort compared to traditional dentures
Enhanced ability to chew and speak confidently
Preservation of jawbone and facial structure
Reduced gum irritation and sore spots from dentures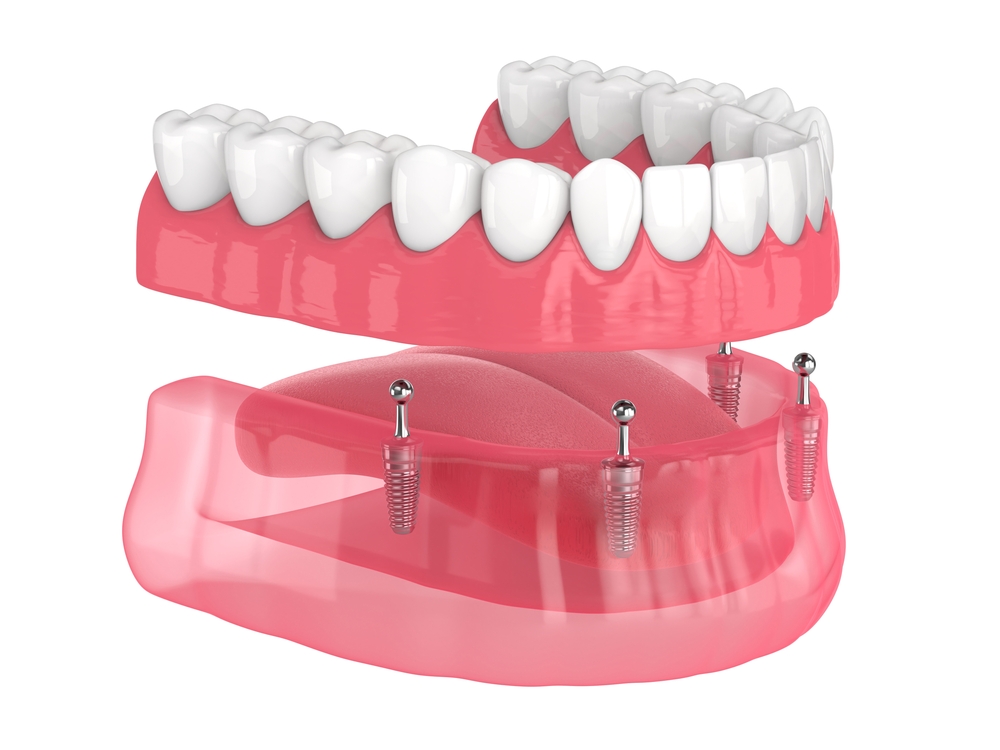 Treatment Process for Implant Placement with Overdentures
Our approach to this treatment includes:
Comprehensive Evaluation: Assessing oral health, bone density, and suitability for implants.
Treatment Planning: Developing a personalized treatment plan tailored to your needs.
Implant Surgery: Surgically placing the implants in the jawbone.
Healing Period: Allowing time for the implants to integrate with the bone.
Overdenture Fabrication: Creating custom overdentures to attach to the implants.
Fitting and Adjustments: Ensuring a perfect fit for comfort and functionality.
Follow-Up Care: Providing guidance for care and maintenance of your new overdentures.
Prevention
To maintain your implant-supported overdentures:
Practice good oral hygiene, including brushing and special care around the implant sites
Schedule regular dental check-ups for professional cleanings and examinations
Avoid hard or sticky foods that can damage the overdentures
Outlook
With proper care, implant-supported overdentures can provide a long-term solution for missing teeth, significantly improving quality of life and oral health.
Frequently Asked Questions about Implant Placement with Overdentures
How Long Do Implant-Supported Overdentures Last?
With proper care and maintenance, implant-supported overdentures can last for many years, providing a durable solution for tooth replacement.
Are Implant-Supported Overdentures Comfortable?
Yes, they are designed for comfort and stability, reducing common issues associated with traditional dentures such as slippage and irritation.
Is Everyone a Candidate for Implant-Supported Overdentures?
Eligibility depends on several factors, including oral health and bone density. Our team can determine if this treatment is suitable for you during your consultation.
Reclaim Your Smile with Our Implant-Supported Overdentures
Rediscover the comfort and confidence of a full smile with implant-supported overdentures from Jowett & Lewis Family Dentistry in Topeka, KS. Call us at 785-272-3864 to schedule a consultation and learn more about this life-changing dental solution.