Jowett & Lewis Family Dentistry in Topeka, KS, provides top-tier professional teeth whitening services, crafted to safely and effectively enhance the brightness of your smile. Our team, including the skilled hands of Dr. Jowett and Dr. Lewis, leverages advanced teeth whitening technology to deliver a noticeably whiter and confidence-boosting smile.
Symptoms Indicating the Need for Teeth Whitening
You might consider teeth whitening if you observe:
Yellowing or discoloration of teeth
Stains from coffee, tea, red wine, or tobacco use
A general dullness or lack of brightness in your smile
Uneven coloring or spots on the teeth
Benefits of Professional Teeth Whitening
Professional teeth whitening is essential for:
Elevating the aesthetic appeal of your smile
Enhancing self-confidence and self-esteem
Removing persistent stains and discolorations
Offering a gentle, non-invasive cosmetic dental option
Teeth Whitening Treatment Process
Our approach includes:
Initial Consultation: Evaluating your dental health and discussing whitening objectives.
Custom Treatment Plan: Crafting a personalized whitening strategy tailored to your unique needs.
Professional Whitening Procedure: Utilizing premium whitening agents for effective and secure results.
Comfort and Safety Measures: Prioritizing your comfort while safeguarding your gums and teeth during treatment.
Post-Treatment Care Instructions: Advising on how to maintain your newly brightened smile.
Follow-up Visits: Tracking progress and making adjustments as needed.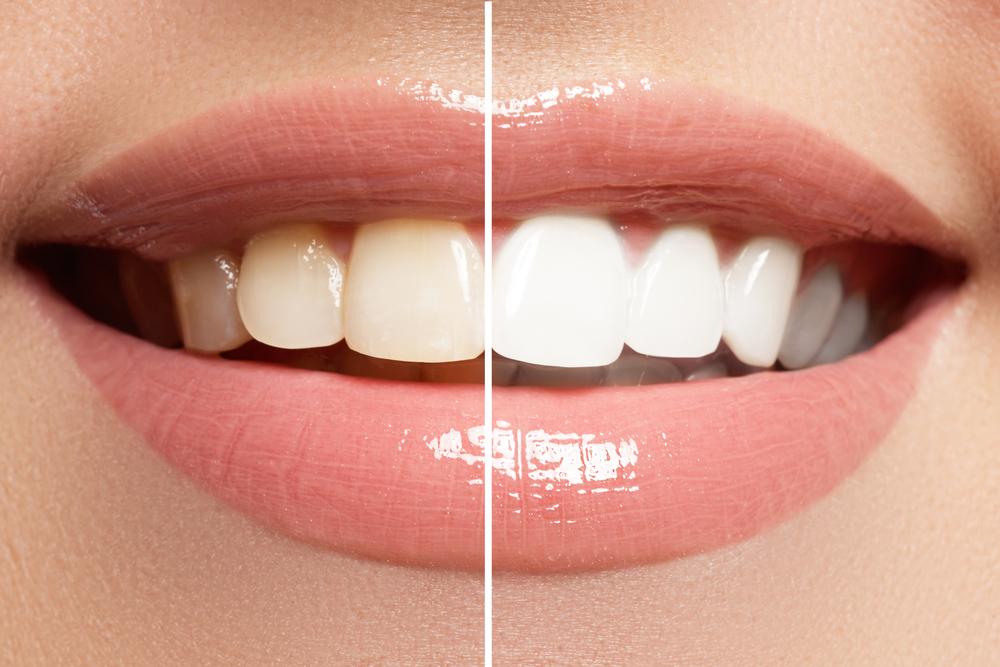 Prevention Tips
For maintaining your whitened smile:
Limit contact with stain-inducing foods and beverages
Adhere to diligent oral hygiene, including routine brushing and flossing
Refrain from tobacco products
Consider using dentist-recommended whitening toothpaste or rinses
Outlook
Professional teeth whitening can yield enduring results with proper care and maintenance. Occasional touch-ups can help keep your smile bright.
Frequently Asked Questions:
Am I a candidate for teeth whitening?
You may be a candidate for teeth whitening if your teeth are dull, yellowish, or otherwise stained. However, ideal candidates for teeth whitening procedures also have generally healthy teeth and gums. Individuals who are pregnant, who smoke, or who are sensitive to bleaching agents, on the other hand, may not be an ideal candidate. To determine if you are an ideal candidate, schedule a consultation with one of our dentists at Jowett & Lewis Family Dentistry today.
What can I expect when having my teeth professionally whitened at Jowett & Lewis Family Dentistry?
During your teeth whitening procedure, our dentist will first ensure that your mouth is in generally good health. Any tooth decay must be treated before applying the bleaching agent to your teeth and your gums must not be showing signs of irritation. Once this has been done, your teeth will then be cleaned to remove plaque and tartar, in order to create a smooth foundation for the whitening agent to be applied.
Then, the bleaching agents are applied to the surface of the teeth and left in place for several minutes so that they can be absorbed by the enamel and dentin layers. After about 20-25 minutes have passed, the whitening agent will be thoroughly rinsed from your teeth with water or a specialized mouthwash designed for whitening procedures.
What can I expect after having my teeth whitened at Jowett & Lewis Family Dentistry?
You may experience some mild side effects after having your teeth whitened, including temporary tooth sensitivity and/or mild gum irritation. These effects are usually very minor, however, and can quickly resolve themselves.
After about 48 hours, your teeth will appear whiter and brighter than they were before you had the procedure. Typically, patients find that their teeth remain about three to four shades lighter than before for up to five years on average.
How Long Does Professional Teeth Whitening Last?
The longevity of professional teeth whitening varies, often lasting several months to years, influenced by lifestyle choices and oral hygiene habits.
Is Professional Teeth Whitening Safe?
Absolutely, professional teeth whitening, when conducted by experienced dental professionals, is a safe, effective method to enhance your smile, with careful attention to the health of your
teeth and gums.
Can Teeth Whitening Remove All Types of Stains?
Professional whitening effectively lifts many kinds of dental stains, though the outcome can vary based on the nature and severity of the discoloration. Our team in Topeka, KS will evaluate your specific case and advise on the most suitable treatment approach.
Brighten Your Smile with Our Expert Whitening Services
Elevate your smile with Jowett & Lewis Family Dentistry's professional teeth whitening services in Topeka, KS. Contact us at 785-272-3864 to book your appointment and embark on the path to a brighter, more confident smile.